Hello and Welcome to Creative Justice, Inc.!
If you've found yourself here chances are you are interested in knowing more about social justice and advocacy. You have come to the right place.
Creative Justice, Inc. is a social justice-consulting practice that is intentional about making space for people to have the very necessary conversations needed for change.
I am a one-person show. Because of this I am able to provide you and your organization with the most intimate and specialized facilitation. Some see social justice as vague but it is not. It is specific and intentional and ongoing. It is a life's work that I am truly called to passionately do. I would love to speak with you more about how to best meet the needs of you and your organization. No facilitation is too small or too large. Any chance to do the work is an opportunity to take a forward step.
As an organization here is my commitment to you.
I am not perfect in my practice but my heart and intentions are pure. My understanding of others as they want to be seen is most important to me. My quest to know the other will never end and that I hope will provide you with the experience that you desire. I look forward to speaking with you and working with your organization soon.
On Being an Ally: The Thing about doing the work is we must show up in spite of. No matter who shows up. No matter who doesn't believe. No matter who doesn't care. We mustn't ever quit especially when it's exhausting because the people we are standing with deserve our very best. – Simpkins

Services…
All services are provided to meet the needs of the individual client. For a full list of what is offered please contact me. A sample list of services can be found here.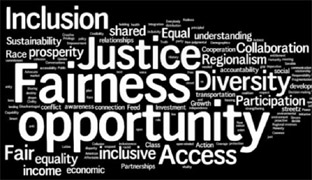 What Is Social Justice?
Social justice is just relations between the individual and society. There are four interrelated principles of social justice; equity, access, participation and rights.
Happy Clients…
<p style="text-align: left;">"Dr. Simpkins delivered an engaging, informative workshop on Racism to over 350 participants in intercollegiate athletics. She is highly knowledgeable in this area and helps the audience develop a language and sense of shared understanding around a very complex topic. Her approach to allyship left the participants with practical tools to practice active allyship."</p> <p style="text-align: left;"><strong>Shelley Davis Senior Associate Commissioner/SWA Big South Conference</strong></p>,
<p style="text-align: left;">"Dr. Simpkins was an excellent facilitator and trainer to our inaugural group of student leaders for the Diversity Peer Educators/Farmer Fellows program at the University of Mary Washington. Every session she provided was very engaging, interactive, and thought-provoking as these Farmer Fellows explored and expanded their worldview and understanding on various diversity, equity, and inclusion related topics. Furthermore, Dr. Simpkins provided them invaluable resources and tools to empower and enhance their skills in their roles as diversity peer educators. The training she provided was very impactful and successful for the students and the Diversity Peer Educators program, as a whole. The Farmer Fellows will continue to grow, thrive, and educate our campus community in an effective and meaningful way based on this awesome foundational training by Creative Justice. I will definitely continue to utilize Dr. Simpkins' expertise and service for future trainings."</p> <p style="text-align: left;"><strong>Dr. Marion Sanford Director of the James Farmer Multicultural Center University of Mary Washington</strong></p>,
<p style="text-align: left;">"Thank you very much for a BEAUTIFUL day. I am so honored that you were a part of our FIRST in-person meeting this year. I love your style. I love your spirit. I love your work. I love your passion. I love your genuineness. I have some great takeaways from today and I am going to be more intentional about fulfilling them. I wish you could have been here in person. I wish the session could have been longer. Thank you for allowing the team to open up and express. Thank you for allowing the team to look within. Today was AMAZING and you were such a BIG part of it. You set the tone for a very cohesive day for the team and I really appreciate it. I look forward to staying in touch with you. You did a wonderful job and you have such a BEAUTIFUL heart."</p> <p style="text-align: left;"><strong>LaShawn Childs Field Director Communities In Schools of Mid-America</strong></p>,
<p style="text-align: left;">"Dr. Simpkins facilitated several conversations for our Board of Directors and Staff around diversity and inclusion. She created a safe space for all participants to share and easily led our group through conversations about privilege, bias, diversity, and growth. We thoroughly enjoyed her warm demeanor and professionalism and look forward to working with her, again, in the future."</p> <p style="text-align: left;"><strong>Iris Sunshine, Executive Director Children's Law Center of Central North Carolina</strong></p>,
<p style="text-align: left;">Dr. Simpkins is a creative talent! We appreciate her work with our Renaissance Talent Search Program, an educational program designed to help middle/high school students be informed about the college preparation and enrollment process. As an educational consultant with the program, Dr. Simpkins prepared an experiential, out of the box approach to get teens to talk about who they are and why that matters. We were excited to have Dr. Simpkins join us during our Critical Conversations Series (August 2019) and will welcome her back for "Do It For the Culture: How Do I Fit In!".</p> <p style="text-align: left;"><strong>Ms. Fabrice J. Blackson (Johnson), M.S. </strong><strong>Assistant Director, Internal Operations </strong><strong>The Renaissance Education Group, Inc.</strong></p>,
<p style="text-align: left;">I was looking for a resource with expertise and  depth in a wide array of diversity, equity and social issues who would quickly grasp my goals to support faculty in creating  inclusive classroom experiences in the remote learning environment, create the course content and conduct the professional development session.  Dr. Simpkin's  assessment of what I  needed was spot on resulting in an engaging and informative session with great practical applications for the classroom. Her consulting and customer service were impeccable.  She will definitely be my go-to for future projects.</p> <p style="text-align: left;"><strong>Sabrina C. Johnson, J D. ~ </strong><strong>Vice President of Equity and Access </strong><strong>University of Mary Washington</strong></p>,